Dining Room
Tin walls – similar to tin ceilings – set off the dining room, where a self-serve expanded Continental Breakfast is served from 7 to 9 a.m. daily (registered guests only).
Our Olde Judge Mansion Breakfast Menu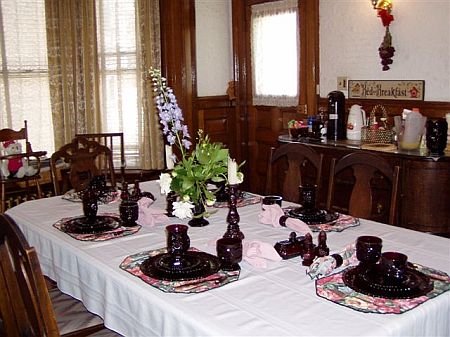 Main Parlor
In addition to coffered ceilings, original pocket doors, and a faux marble finish fireplace, the parlor includes comfortable seating, a piano, aquarium, TV, and books on Troy's history.

Upstairs Sitting Room
Curl up on a Victorian fainting couch for some reading, or browse the available books and movies. Children can find toys here for rainy days, and an ironing board is available for your convenience. A nonworking fireplace adds to the charm.

Extended Stay
If you're traveling on business, ask about our extended stay options. We offer comfort and flexibility – come and go as business dictates.
We even offer advice on good restaurants and other venues for business meetings, and we'll gladly work with your company's travel planner to ensure you get exactly what you want.

Bathroom Amenities
All bathrooms include a blow dryer and shampoo/conditioner.